Apartment life
The benefits of living in an apartment
Living in an apartment
What does living in an apartment look like?
In large cities, most dwellings are apartments in order to optimize urban space. Living in an apartment has benefits and drawbacks that are important to know in order to make the best choice for future real estate investments.
There are those who prefer to live in an apartment, to be in the heart of the city, and for the practical side, and those who prefer to enjoy a house, larger, with land, but also more maintenance. In both cases, life can be sweet, as long as you feel at home! House or apartment, make your choice!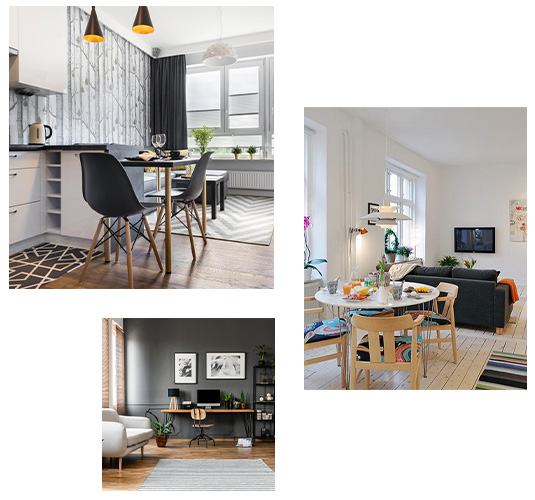 Benefits of living in an apartment rather than a house
Why choose an apartment?
There are definitely big assets to apartment life. Here are four of the most important benefits of choosing the apartment way of living.

Low cost
Living in an apartment can be much more financially profitable than living in a house, both for the rent and for the daily expenses related to your home.

No maintenance
Residents of an apartment building usually have a maintenance person who takes care of the outside spaces, whether it is the common or the green areas.

 Increased security
Most of the apartments have several entrance "layers". A main door, a side door or a fire door, and then the door to your apartment. Not to mention digicodes, videophones, etc.

Additional equipment
Many apartment buildings offer equipment that you may not have if you lived in a house. There are cellars, laundries, and sometimes swimming pools, sports halls, etc.
Nothing comes easy!
The challenges of living in an apartment
There are also some drawbacks to renting or buying an apartment. Obviously, the importance of these challenges depend on everyone's liking and understanding of what one's home should look like.
House vs apartment
Are you planning to move? One of your first tasks is to decide whether you want to go for an apartment or a house!
Although there are large apartments and small houses, in the vast majority of cases the difference between an apartment and a house lies in the size of the living space.
A house means choosing large spaces, with floors, an attic, a veranda or a garage. There is plenty of room to settle down, do some work, play…
In an apartment, several living rooms are linked together on the same floor. This resuklts in a little less freedom of movement, certainly, but a little less work and mess. Not to mention that a small space can also be cosy!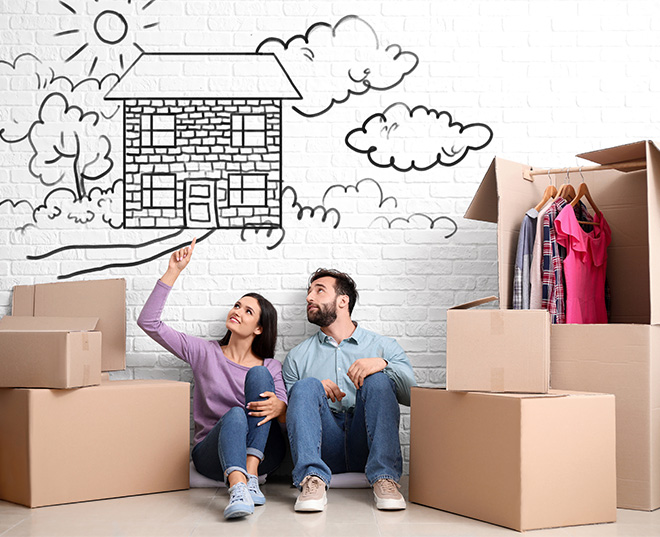 Expert advice that are easy to apply
Tips for optimizing small apartment spaces
Your apartment seems too small to you, and that annoys you. It's time to change some things about it! Here are some planning ideas and tips for arranging space and enlarging a room without pushing the walls.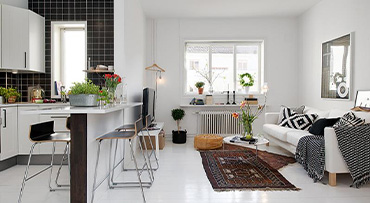 Defining different living spaces
The main constraint consists in definign the living spaces while allowing natural light to pass through. To solve this difficulty, decorators use several tricks that we have listed in our articles.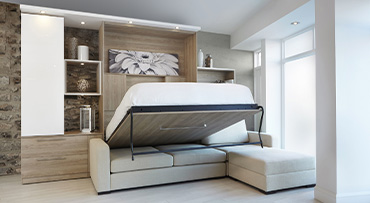 Choosing multifunctional furniture
Every square centimeter must be optimized. In this case, it can be very interesting to use furniture with multiple functionalities, definitely a very practical solution!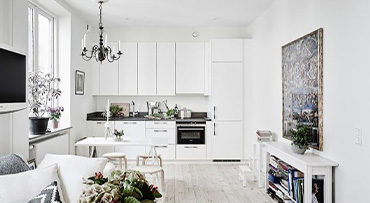 Using light colours or tones
The lighter tones will give the impression of a larger, more airy space. Colours have a significant influence on the ergonomics of a room in a small apartment is often overlooked!